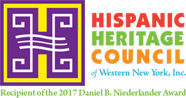 Friend of Hispanic Heritage Award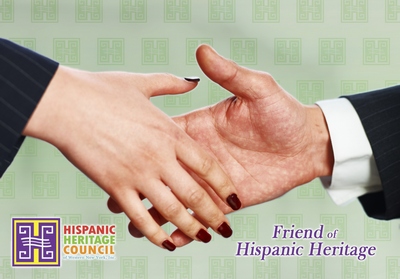 2023


Richard Morrisroe, Esq.
Rosa A. Gonzalez, PhD
Joanne Castellani & Michael Andriaccio


A "Friend of Hispanic Heritage" is an organization or individual who, through words and actions, exemplifies and supports the mission of the Hispanic Heritage Council to foster and inspire awareness, understanding, and appreciation of past, present, and future contributions of the Hispanic community in Western New York. The recipient of this award contributes significantly to the rich cultural heritage of Western New York.
2022
Wilda Ramos
Dinorah Santos
John Starkey
Luis A. Rodríguez Jr.
Dr. Raul Vazquez
2021
Carol Jasen Sampson
Dr. Fatima Morrell
Hispanic American Veterans of Western NY Memorial Committee
Hispanic Women's League
Jamie Warren
Los Artistas Del Barrio Buffalo
Lucy A. Candelario
Tim Clark
2020
Michael J. Billoni, Billoni AssociatesMiguel Medina, Principal
Herman Badillo Bilingual Academy #76
2019
Mayor Wilfred Rosas, Dunkirk, NYBuffalo NewsWKBW Ch7WIVB Ch4WGRZ Ch2
2018
Agustin "Pucho" Olivencia Community Center
Wilmer Olivencia Jr.
PresidentEl Batey Dance Center
Beatriz Flores
Director
2017
Puerto Rican & Hispanic Day Parade of WNY Inc.
Yolanda Martinez-Rodriguez
PresidentRaíces Theatre Company
Victoria Pérez-Maggiolo
Artistic Director