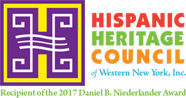 History of the Hispanic Heritage Council of Western New York Inc.
The Hispanic Community is the fastest growing minority in the U.S. In Western New York, the Hispanic Community's estimated population is nearly 70,000. On September 17, 1968 the United States Congress passed a resolution recognizing Hispanic heritage at the national level and implementing a week-long annual celebration. Nearly 20 years later, on August 17, 1988, President Ronald Reagan created "Hispanic Heritage Month" to be celebrated from September 15 to October 15.
Erie County and the City of Buffalo honored contributions Latinos have made in our community with an elaborate ceremony on September 15, 2010 at the Buffalo & Erie County Public Library. This marked the official launch of the month long festivities that are designed to raise public awareness about the richness and diversity of Latin American heritage, to highlight the variety of cultural events during "Hispanic Heritage Month", and to encourage pride throughout the local Hispanic community. In that same year, a collaboration began with several arts and cultural organizations of Erie County to create a calendar of events to mark "Hispanic Heritage Month."
As an outgrowth of that month, and in conjunction with his experience on the Erie County Cultural Arts Resource Board in 2009, Casimiro D. Rodriguez Sr. realized a void was evident and the idea of an organization that focused on the Cultural Arts, Heritage and History, was conceived. As a result, Casimiro founded the Hispanic Heritage Council.
The Hispanic Heritage Council of Western New York, Inc. received its official certificate of Incorporation as a New York nonprofit on April 4, 2011. The initial directors were: Tamara Alsace, Gilbert Hernandez, Wilda Ramos, Casimiro D. Rodriguez Sr., Sergio Rodriguez, John Sanabria, Miguel Santos, Esmeralda Sierra. Its main objective is to highlight WNY's Hispanic community, values and culture during the community wide celebration of "Hispanic Heritage Month" and activities throughout the year. Coming full circle, its office today is located inside the downtown Buffalo & Erie County Public Library building Among the many significant events that commemorate the Hispanic Community, one of the most popular is "El Dia Del Nino" that promotes education, literacy, nutrition, character, and recognition of all school children.
The mission of the Hispanic Heritage Council is to foster and inspire awareness, understanding, and appreciation of the Hispanic community in Western New York. It is known as a leading organization that chronicles the past and creates opportunities for future contributions of the Hispanic community to Western New York's rich historical and cultural landscape.