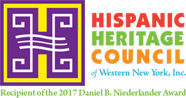 Spring It On 2023 was a great success!
On behalf of the Board of Directors of the Hispanic Heritage Council of WNY Inc., we would like to thank you for taking time to participate in our United Way SpringIt On Campaign. Your generous donation to our organization,will enable us to meet our mission for community. We invite you to partipate once again next year as we continue to promote part of WNY's rich cultural heritage.
Muchas Gracias!
Casimiro D. Rodriguez Sr.
President