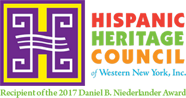 About the Hispanic Heritage Council
Acerca del Concilio de Herencia Hispana del Oeste de Nueva York

Dedicated to preserving the history of Hispanics in Western New York for future generations.

Dedicado a preservar la historia de los hispanos en el oeste de Nueva York para las generaciones futuras.

Organizational Overview

The Hispanic Heritage Council of WNY Inc. is a nonprofit organization that exists to foster and inspire awareness, understanding, and appreciation of past, present, and future contributions of the Hispanic Community in Western New York.

Información general sobre la organización

El Concilio de Herencia Hispana del Oeste de Nueva York, Inc. es una organización sin fines de lucro que existe para promover e inspirar la conciencia, la comprensión y apreciación de la contribución pasada presente y futura de la comunidad hispana en el oeste de Nueva York.

Nuevo video

Casimiro Rodriguez, líder y fundador del Hispanic Heritage Council, una organización que se encarga de brindar ayuda e información a todos los latinos en Estados Unidos. En este episodio, Casimiro hace énfasis en el Mes de la Herencia Hispana, y en lo que este significa para nuestra comunidad latina en los Estados Unidos. (Haga clic para ver el vídeo / Click to watch video)

History

*The History Channel also has this Hispanic History Milestones: Timeline page.

Hispanic's have been part of the fabric of Western New York Community since the late 1800's and early 1900's. The earliest arrivals were people from all parts of Central & South America, Mexico, Spain and the Caribbean, who came here humbly looking for the American Dream. Some did not have much education, but they had hearts determined to explore a new frontier and to work hard to improve the lives of their families here and the loved ones left back home.

They arrived, like many other immigrants, as non-English speakers with the hope to someday become citizens and contributors to this great area called Western New York. They worked as migrants in fields, in factories, rail yards, steel plants, and many places that would offer meaningful employment and the opportunity for success.

In Today's 21st Century Hispanic's in WNY contribute professionally in the private and public sector continuing the tradition of their ancestors in the fields of military, education, medicine, law, government, communications, business, finance, sports, art and music.

Historia

Los hispanos han sido parte de la estructura de la comunidad del oeste de Nueva York desde los 1800. Los primeros en llegar vinieron de España, partes de Centro y Sur América, México y el Caribe, vinieron aquí con humildad buscando el sueño Americano. Algunos lo hicieron no teniendo mucha educación pero tenían corazones decididos a explorar una nueva frontera y a trabajar duro para mejorar las vidas de sus familias aquí y los seres queridos de su país original.

Llegaron al igual que muchos otros inmigrantes que no hablan inglés con la esperanza de algún día convertirse en ciudadanos y colaboradores a esta gran área llamada oeste de Nueva York. Trabajaron como migrantes en los campos, en las fábricas, pistas de ferrocarril, fundición de acero, y muchos lugares que ofrecen el empleo y la oportunidad para el éxito.

En siglo 21 de hoy, los hispanos en el oeste de Nueva York contribuyen profesionalmente en el sector privado y público, continuando la tradición de sus antepasados en los campos de fuerzas militares, educación, medicina, leyes, gobierno, comunicaciones, negocios, finanzas, deportes, artes, y música entre otros.

Hispanic Heritage Month

Hispanic Heritage Month recognizes the contributions of Hispanic Americans to the United States and to celebrate Hispanic heritage and culture. The observation started in 1968 as Hispanic Heritage Week under President Lyndon Johnson and was expanded by President Ronald Reagan in 1988 to cover a 30-day period starting on September 15 and ending on October 15. It was enacted into law on August 17, 1988.

September 15 was chosen as the starting point for the celebration because it is the anniversary of independence of five Latin American countries: Costa Rica, El Salvador, Guatemala, Honduras and Nicaragua. They all declared independence in 1821. In addition, Mexico and Chile celebrate their independence days on September 16 and September 18, respectively.

Mes de la Herencia Hispana

El Mes de la Herencia Hispana reconoce las contribuciones de los hispanoamericanos a los Estados Unidos, además de celebrar la herencia hispana y la cultura. La observación comenzó en 1969 como la Semana de la Herencia Hispana durante la presidencia de Lyndon Johnson y fue ampliado por el Presidente Ronald Reagan en 1988 para cubrir un período de 30 días a partir el 15 de septiembre al 15 de octubre. Se convirtió en ley el 17 de agosto de 1988.

El 15 de septiembre fue elegido como el punto de partida para la celebración porque es el aniversario de la independencia de cinco países latinoamericanos: Costa Rica, El Salvador, Guatemala, Honduras y Nicaragua, todos declararon en 1821. Además, México y Chile celebran sus días de la independencia el 16 de septiembre y 18 de septiembre, respectivamente.