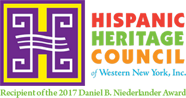 Hispanic Heritage
Council of WNY Inc.
P.O. Box 361
Buffalo, NY 14201
Phone:
716-402-1HHC (1442)

Email Us
Ralph R. Hernandez Bilingual Education Scholarship
The Hispanic Heritage Council of Western NY, Inc. will start accepting applications this coming January 1st, 2024, for its Ralph R. Hernandez Bilingual Education Scholarship. The scholarship will be awarded to a WNY student enrolled in a college or university program leading to certification as a teacher in any grade or subject, with preference given to those pursuing a bilingual education degree.
NEW APPLICATIONS will be available later, for the NEXT academic year.
Despite being past the application date for this year, you can review these PDFs from this past year, which contain:
Ralph R. Hernandez Bilingual Education Scholarship

Eligibility, Checklist and Application

Ralph R. Hernandez Bilingual Education Scholarship

Form for Reference(s)
Questions? You can call us at 716-402-1HHC (1442)

This scholarship is funded by an endowment created with the Community Foundation for Greater Buffalo through a generous donation from First Niagara Foundation.
Eligibility guidelines for this upcoming scholarship opportunity are as follows:
Must be an individual of Hispanic ethnicity [direct descendant of Hispanic parent(s)/grandparent(s)]
Must be enrolled in a teacher preparation program leading to certification to teach in any grade or subject (Preference will be given to candidates enrolled in a Bilingual Education Program)
Must have a grade point average at least 2.75 if previously enrolled in college; high school final average of 85 or above if a recent high school graduate.
Must be a resident of one of the six (6) counties of Western New York: Erie, Niagara, Chautauqua, Cattaraugus, Wyoming, or Allegany Counties and attend an institution in one of these regions.
Applicants must show a dedicated commitment to the Hispanic Community.
Must be present at our annual Hispanic Heritage Month Kickoff at the central library (date to be announced, typically mid-September)
Recipients must serve one year as a student representative to the HHC.
Previous HHC Scholarship Award recipients are not eligible. There will be ONE $500 scholarship awarded.
Applicants will need to provide:
A typed 200-word essay indicating your personal history, goals, commitment to the Hispanic Community (Please include any special circumstances.)
A recent resume including your work/volunteer experience for the past two years.
Recent letters of recommendations (within the year), signed and dated, and/or the scholarship recommendation forms (attached) from professors, counselors, community or religious leaders and/or employers. At least one of the recommendations must be from a faculty member or teacher whose class you attended. We encourage you to obtain this as soon as possible. Recommendations must include the contact phone numbers and e-mail addresses of the individuals making the recommendations.
A statement from your college registrar reflecting that you are currently registered in a teacher preparation program for the fall, 2025- 2026 semester for at least 12 credit hours*
A copy of your fall 2025- 2026 schedule.*
A copy of your college/university transcript or your last high school report card showing a grade point average of 2.75 or higher or a final average of 85 or higher. A transcript including the most recent grades must be provided for graduate students. Transcripts may be unofficial copies.
Photo ID. (birth certificate, passport, or non-driver's ID)
*Schedule and evidence of enrollment to may be submitted separately as they become available, but must be submitted prior to disbursement of funds.
References will be asked to rate applicants as Excellent, Very Good, Good, Fair or Poor, in the following areas:
Academic Achievement, Persistence, Seriousness of Purpose, Self-Discipline, Intellectual Curiosity, Organizational Skills, and Commitment to the Hispanic Community