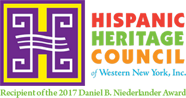 Resources
(Click red underlined text to Expand or Collapse additional info boxes)
Community Organizations
Art & Culture
Career and Employment Opportunities
Authentic Spanish-American Cuisine
Hispanic Community Media
Resources regarding Addictions
Entrepreneurship for All (EforAll) announced the launch of its Business Accelerator program in Buffalo, in partnership with Entrepreneurs Forever (eforever) and Buffalo Niagara Medical Campus (BNMC). Through this partnership these organizations work to provide under-represented individuals with the training and support needed to start, grow and sustain their businesses, aiding in strengthening the region's economy. Here's the press release from BusinessWire.
---
We also recommend the Maritime Injury Center resource site for your reference. The Maritime Injury Center is both an education site and comprehensive resource for mariners and military alike.
---
Here are some links if you're concerned about or want more information regarding medical tests including types of STD tests and help finding local STD test sites.
---
GREAT NEWS: Roswell Park is bringing Cuban Lung Cancer Treatment to US for Testing!

Click above to donate to Roswell!
---
HERE's a great page offering Sleep Help For People With Autism Spectrum Disorder along with other helpful information about ASD in general.
---
HERE's a great page reviewing various mattresses to consider For People With Fibromyalgia.
---
HERE's a great page on Financial Assistance for Single Mothers.
---
Looking for a site with a personal touch, understanding, and information about mesothelioma? Be sure to visit mesothelioma.net.
---
Faith Base Community
Rev. Samuel Rivera
President Association of Hispanic Pastors of WNY Inc.
716-432-6962
Msgr. David Gallivan
Holy Cross Church
200 Niagara St
Buffalo, NY 14201
(Hispanic Congregation)
Holy Angels
348 Porter Ave
Buffalo, NY 14201
(Hispanic Congregation)
Deacon Miguel Santos
Holy Cross Church
345 7th Street
Buffalo, New York 14201
716-207-0706
miguel.santos@nationalgrid.com
Grupo Ministerial
520 7th Street
Buffalo, New York 14201
716-886-8282
Dedicated to educating the community of Western New York as well as raising awareness in regard to health concerns affecting the community.
Immigrant Community - Contacts
You can also DOWNLOAD A PDF of this list.
Aziz Ahmed
Bengali Community of Buffalo
716-235-8226
ahmed16550@yahoo.com
Lamin Tamang
Bhutanese-Nepali Community of Buffalo
1071 West Avenue
Buffalo, NY 14213
(716) 602-6113
lamin56luckyvai@gmail.com
Steven Sanyu
Burmese Community Services, Inc.
81 Albany Street
Buffalo, NY 14213
(716) 308-4338
info@burmesecs.org
Richard Ndayisaba
Burundi Community of Buffalo
30 St. James Road
Cheektowaga, NY 14225
(716) 907-8795
r_ndayisaba@yahoo.com
Biak Lian
Chin Community of Buffalo, New York
c/o: Biak Lian, Chairman
194 W. Hazeltine Ave.
Buffalo, NY 14217
(716) 247-2203
Julianjesse07@gmail.com
Richard Ndayisaba
Burundi Community of Buffalo
30 St. James Road
Cheektowaga, NY 14225
(716) 907-8795
r_ndayisaba@yahoo.com
Aime Kahuka
Congolese Community of Buffalo
276 Vermont St.
Buffalo, NY 14213
(678) 814-2482
aimekahuka@gmail.com
Eskinder Tefera
Ethiopian Community Association of Greater Buffalo, Inc. (ECAGB)
P.O. Box 396
Buffalo, NY 14205
(716) 400-4598
etefera1@gmail.com
Yoshua Bishizi
Global Bridge Impact, Inc.
70 Barker St.
Buffalo, NY 14209
(716) 830-5636
biuma16@yahoo.com
Ali Kadhum
Iraqi American Society, Inc.
1005 Grant St.
Buffalo, NY 14207
(716) 335-0395
alikhadu@buffalo.edu
Eh Knyaw
Karen Society of Buffalo, Inc.
931 Niagara St.
Buffalo, NY 14213
(716) ) 538-9663
lawddaniel@gmail.com
Soe Win
Karenni Community of Buffalo
Attn.: Jackson Angelo
90 Wyndotte Ave., Lower
Buffalo, NY 14207
(716) 200-3062
jacksonangelo.kncb@gmail.com
Augustin Nkiambi
Kongo Dia Ntotila Solution
1197 West Ave.
Buffalo, NY 14213
(716) 602-3019
auguynkiambi@yahoo.fr
Saladi Shebuli
Somali Bantu Community Organization of Buffalo, New York, Inc. (SBCO)
83 Grant St.
Buffalo, NY 14207
(716) 881-9100
info@sbcob.org
Zakaria Gasmalla
Sudanese American Community of Buffalo
170 14th Street, #2
Buffalo, NY 14213
(716) 697-6508
zgassmalla@hotmail.com
Peter Mang
Zomi Innkuan Buffalo (Zomi Community of Buffalo)
145 Breckenridge Street, Apt. 1
Buffalo, NY 14213
(716) 777-9761
smungpi756@gmail.com
Agency Addresses and Phone Numbers regarding Refugee Resettlement
International Institute of Buffalo
864 Delaware Ave. Buffalo, NY 14209
716- 883-1900
Eva Hassett ext. 311
Denise Beehag ext. 319
Catholic Charities of Buffalo
394 Franklin St. Buffalo, NY 14202
716- 842-0270
Dennis C. Walczyk
Anne Brittain
Jewish Family Services
70 Barker St. Buffalo, NY 14209
716-883-1914
Marlene Schillinger
Rose Ann Gromacki
Journey's End Refugee Services
Tri-Main Center 2495 Main St. Suite 317
Buffalo, NY
716-882-4963
Molly Short ext. 215
Meghann Rumpf ext. 208
Immigration Law
Law Office of José Pérez
651 Delaware Avenue
Suite 118
Buffalo, NY 14202
Tel: 716-362-1204
Cel: 315-480-5085 Fax: 315-466-5673
Email: joseperez@joseperezyourlawyer.com
Website: www.joseperezyourlawyer.com

The Law Offices of José Pérez represents Workers' Compensation clients in Utica, Syracuse, Rochester and Buffalo. Since opening his practice, José Pérez has been involved in all areas of civil litigation, including labor and employment, premises liability and immigration. José Pérez stays connected to his culture by volunteering as Vice President of Nosotros - Your Latino Voice, Vice President of the League of United Latin American Citizens (LULAC), Syracuse, NY, chapter, an Ad-hoc member of the Civil Rights Committee of Alliance of Communities Transforming Syracuse and as an appointed member by the Syracuse City Council to the Legislative Committee of the Citizens Review Board.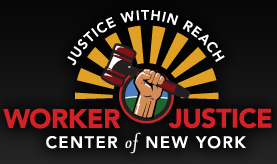 The Worker Justice Center
Rochester Contact
1187 Culver Road
Rochester, NY 14609
Tel: 1-800-724-7020
Website: www.wjcny.org/
The Worker Justice Center of New York pursues justice for those denied human rights with a focus on agricultural and other low-wage workers, through legal representation, community empowerment and advocacy for institutional change.
Upstate NY Better Business Bureau
Beneficial Webpages:
Postal mailing address of our WNY office:

Better Business Bureau in Upstate New York
100 Bryant Woods South
Amherst, NY 14228
Resources for Seniors
Resources for our Veterans
---
If you or a loved one has difficulty with hearing loss, this link: Home Modifications for Hearing Loss might be a helpful resource.
---
We're also pleased offer this link to you: The History of Addiction and Sobriety in Cinema as a resource.
---
Needing tips and information about INTERNET SAFETY? Check out this Ultimate Guide to Internet Safety resource.
---
Looking to move? Using movers? Be sure to check out this page which has a comprehensive guide to see if you qualify for moving service discounts and how to ask, avoiding scams and more.
---
HERE is a great PDF full of a variety of mental health resources compiled by the Mental Health Advocates of WNY.
---
If you're needing some DIY tips regarding making your home more accessible for those with disabilities, and you or a friend have access to welding gear, this DIY tip page can be a great page to review.
Please note: not all tips are related to welding.
---
If you're needing a great mobile DJ, please be sure to visit V3RdGO.
DJ V3RdGO (pronounced VER-dee-Go) is one of Western New York's most versatile mobile DJ's. Utilizing a wide range of genres from Hip-Hop and Dance to Rock and Country, plus all Latin genres, the dancefloor is bound to be busy. Musical versatility allows for bookings of all venues both private and corporate.
---
If you're concerned you may have fallen victim to fraud, please be sure to visit Whistleblower Info.
The goal of Whistleblower Info is to "keep the public educated and informed of the many different types of government contractor fraud, medical & healthcare fraud, pharmaceutical and FDA fraud, tax fraud, which unfortunately are all too common in the US. Fraud can cost the government millions of dollars a year at the expense of the taxpayers."
---